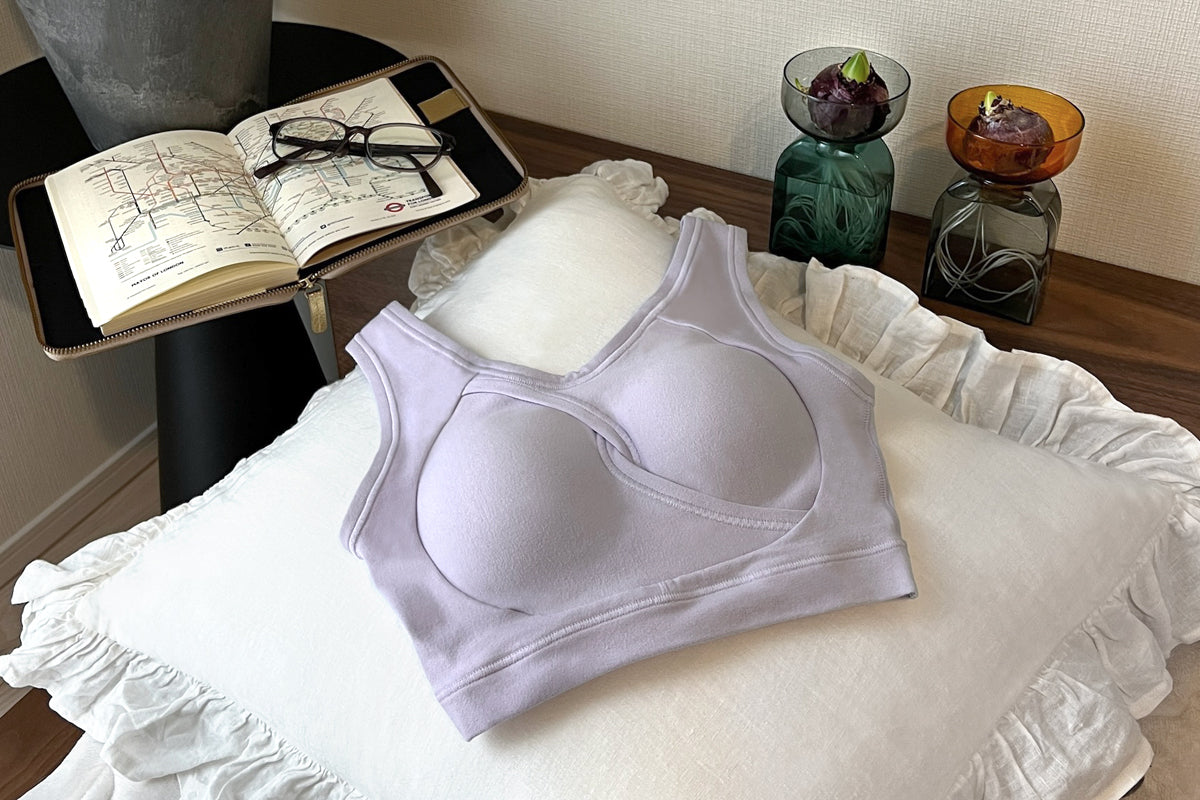 A good night's sleep is considered not just welcome, but absolutely crucial to one's health. For too long, the demands of modern life have sacrificed this most natural activity of rest & recuperation. 
Did you know that your breasts change slightly every night? Breasts are mostly composed of fatty tissues, and these tissues are allowed to flow freely if you let them be. With time and age, breast tissues become less firm, and move to places you don't want them to. Gravity and time causes our breasts' Cooper's Ligaments to become loose, that's how sagging happens as we age. Same principle as skincare, you habitually apply moisturizers, put on a mask before you go to bed to nourish your skin. Your breasts need care and attention too! 
Breast shapes can change according to your habits. For instance, wearing the wrong bra can ruin your natural shape. AND going to bed without proper support of your breasts may speed up most of the common concerns everyone has: sagging, spreading wide apart and excess back tissues - because tissues flow freely in all directions when you sleep. 
To some extent, the Covid pandemic inadvertently shone a light on how unhealthily we'd been living, before the option of distractions afforded by staying out till late were snatched away from us.
In the past year, fear gave way to curfews, which eventually resulted in boredom, finally dissolving into going to bed at a decent hour, at least for some of us, while the rest found new distractions within their homes (Netflix, anyone?).
Even for those who managed to clock in an extra hour or two of much needed shut-eye, we achieved it through circumstances pressed upon us, and not by choice.Which leads up to an interesting comparison on how we prioritize Sleep as part of our overall well being, or rather, not at all.
Exercise! But What About Rest?
A parallel can be made on how conscientious we've become about our fitness regimes, but not towards our sleep. We follow the latest exercise crazes, and with them, the plethora of apparel and accessories to optimize these experiences. 
There's sport bras designed for exercise, not only to look stylish but also to support your breasts' Cooper's Ligaments while doing vigorous movements. We know how to exercise better, eat better but sleep better? 
When it comes to Sleep, what we women wear is considered almost a non-issue. Which isn't conducive on so many levels: health, self-esteem and overall well being.
The Bradelis Sleep Series Nightwear & Bras aim to change that. Our range of products designed in carefully crafted cuts and luxurious fabrics, ensure that you don't just get a good night's sleep, but wake up feeling more beautiful - ready to take on what life throws at you.
Our founder, as a beauty enthusiast , realized the importance of sleep bras long ago. After years of studying sleep behaviors and how it affects breast tissues, we came up with styles of functional & comfortable sleep garments. 
Let's dive right into the range of Sleepwear Offerings, each of which have been developed to cater to a specific nighttime need to not just 
achieve much needed rest, but fulfill our wish that even when we have our eyes closed - women want to feel beautiful
anytime, anywhere ;)


EASY NIGHT SLEEP BRA
Your nights just got ... easier 
The Easy Night Sleep Bra was born out of careful consideration for the Bradelis Customers' need to not just sleep well, but crucially, to maintain breast health and comfort. And with long term usage, to enhance it.
The Easy Night Sleep Bra has a meticulously crafted center loop design which holds your breasts in shape during movement. This is crucial to consider as one would easily be misled to think "But I don't move when I sleep."


In fact, nothing could be further from the truth. An extensive study by the Sleep Foundation revealed that there are significant differences in sleep cycles between men and women,  with women experiencing more sleep fragmentation and lower quality sleep. In addition, during menstrual cycles, women's' sleep is further disrupted due to hormonal changes, causing one to shift about without realizing it. The Bradelis Easy Night Sleep Bra ensures that Breasts are kept in place, thereby significantly reducing any concerns of unwanted shape altering
LACY COMFORT SLEEP BRALETTE 
Round the clock support in a pretty package 
The Bradelis Lacy Fit Night Bralette offers 24-hour comfort and support for your chest, even while you sleep. With patented technologies and lifting functions, this night bra supports your bust gently yet effectively. A lot of our customers were surprised by the cleavage enhancement this simple bralette was able to deliver. The versatility in design is as wide as the locations and needs of our Bradelis Customers. A 37 year old executive from New York loves the soft, stretchy fabric that feels great during the change of season going into Fall, while a 29 year old Artist from Los Angeles was so taken in with the intricate lace detailing, she conducted a photoshoot of the Bra in her studio.
The Triangular Panel is probably the most unique aspect of this feature-rich Bra, which supports the Bust from the center, creating a natural shape without the use of wires.
LACY SUPPORT SLEEP BRA 
The Lift You Need While Lying Down 
Continuing in the Bradelis tradition of blending style with fit, the Lacy Support  &  Light Support Sleep Bra has a patented lifting mesh tape function which one customer described as "stable and yet feels feather-light so soft". It became her go to Sleep Bra, having ordered it in all colorways, including the eye catching soft pink.For customers who don't require the enhanced level of support, the Lacy Support Sleep Bra is also available in a more durable, light version too.
FRIENDLY WIRELESS SHAPING BANDEAU BRA
Make Sleep your Friend
The Bradelis Friendly Wireless Shaping Bra is probably the most comfortable and supportive bandeau bra you have ever tried. Not only does it use high quality moisture absorbent and cool touch fabric, we have incorporated many design details into this simple bra, to keep your bust shape beautiful. The underband loop and side arched panels help prevent sagging and spreading, while the wide back design and powernet layer smoothens your back and provides extra support. The perfect multi-purpose bandeau bra is also suitable for light sports, making it the perfect Bra for when time is of the essence and you have to literally jump out of bed and kickstart your day without having to worry about wearing the right bra. Our Friendly series of Bras are there to support you no matter what time of day or night.

Still not sure which one to get? Here's a guideline chart for you:
If you still are unsure, we always recommend trying Easy Night for first-timers. 
GOOD DAY SILK PAJAMA SET
For Days, Nights and everything in-between 
The Covid pandemic taught us all to be flexible in our schedules. With restrictions of movements piling up over the last year, we here at Bradelis felt that even if one can't be free to go wherever they want, they should at least feel free in what they wear. And that's exactly what our
Silk Pajama Set
delivers. Composed of 100% Silk, this Pajama Set offers the ultimate feeling of luxury as the shimmering fabric drapes and gently wraps around your skin, ensuring a sound sleep or effortless comfort as you go about your day at home. And in a generous 8 colorway offering to reflect your mood, you'll be spoilt for choice and never bored, even while being stuck at home. The set includes a Robe, Camisole and Pair of Shorts, each item is further enhanced with distinct details; the Robe, which is the centerpiece of the set, has a removable waistband and elegant lace sleeves - perfect for showing off during those video calls. The Shorts offer the ultimate comfort with an elastic free waist, further enhancing the feel of silk around you and the Camisole straps are completely adjustable allowing the set to drape according to your own anatomy.
Sleep Soundly with Bradelis 
With Fall season kicking in and the nights getting longer, it's imperative for you to enhance your sleep and get a proper night's rest, continually.
The Bradelis Sleep Series is more than just a stylish and comfortable set of products for one to sleep or lounge in. They're a natural extension of women's need to feel good about themselves not just when they're out in the world having to impress everyone around them, but also in the quiet and restful moments, when it's just you. Sweet Dreams!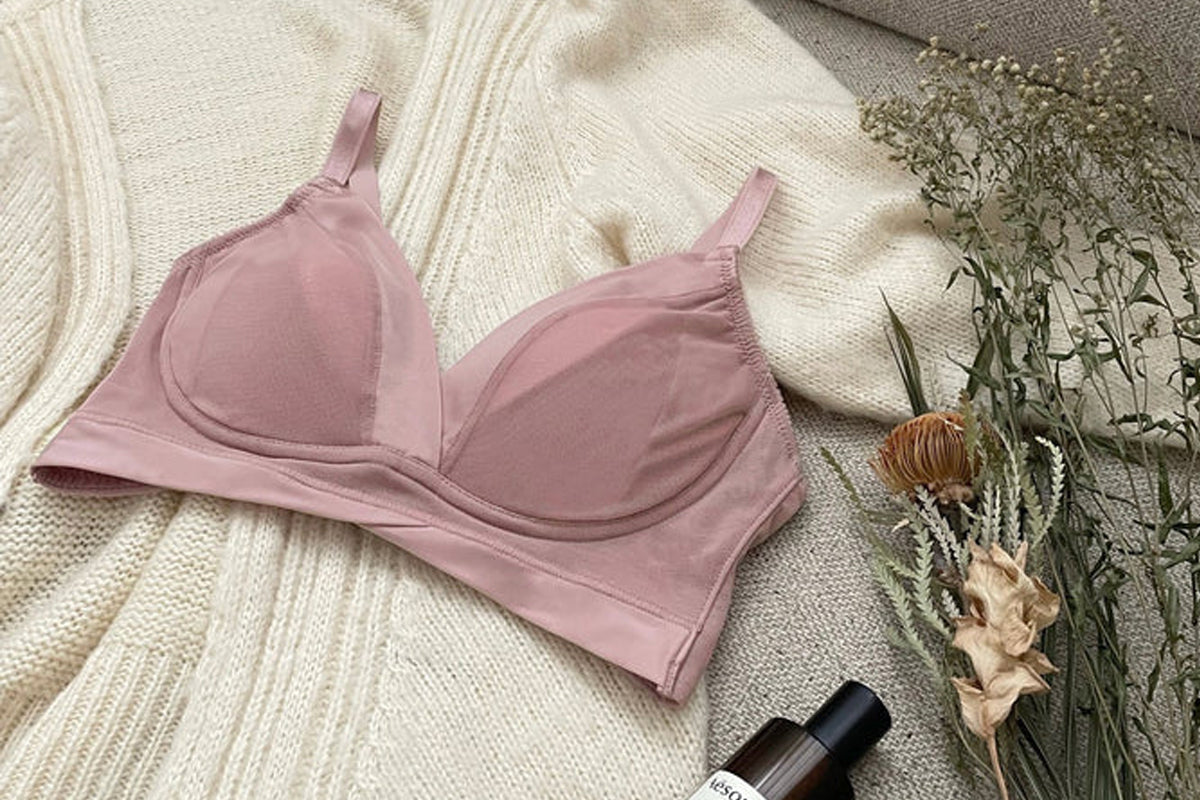 The Only Wireless Bra You'll Ever Need
The Bradelis Hug Me Wireless Shaping Bra has been meticulously engineered in Japan and designed to achieve a harmonious balance of beauty, comfort & function that will remain as a favorite in y...
Read more
To spread the "BRADELIS Beauty" awareness, I started my own company Gold Flag Ltd. 30 years ago in Japan and established the lingerie brand "Bradelis New York", incorporating New York aesthetics wi...
Read more