How To Choose Your Bradelis Size? How To Wear Your Bradelis Bra?
What is Your Bradelis size & How to Wear Your Bradelis Bra?
How To Measure Your Bra Size
1. Measure without wearing a bra.
Make sure the measuring tape is parallel and your posture is straight.
(We recommend measuring in front of a mirror)
2. Underbust Measurement
Wrap the measuring tape around the ribcage nearest to the bottom of your breasts (the underbust line).
Make sure the tape is not too tight or too loose. Round up the number to find your underbust size. 
For international sizes, round up to 65, 70, 75, 80 and so on.
For US sizes, add 3-4 inches to the measurement and round up to 30, 32, 34, 36 and so on for your US band size.
For example 73cm/28.7inches the underbust size is size Intl.75/ US 32.


3. Top Bust Measurement


Bend 90 degrees and measure the fullest part of your bust. Wrap the measuring tape around your breasts parallel to the nipples. 


Once you have both measurements, match the 
Top Bust and Underbust range to our size chart 
and you will be able to find your Bradelis bra size. 
For example Top Bust 94cm/ 37inches with Underbust 78cm/ 30.7inches is bra size 80D (US 36D) according to our size chart.


Tips: Based on your fit preference, you can choose sister sizes of your bra size. For example the sister sizes of 75C (US 34C) is 80B (US 36B) and 70D (US 32D). If you prefer a relaxed fit you should chose one band size larger, in contrary one band size smaller if you prefer a tighter fit. Remember when choosing one band size larger, you should choose one cup size smaller to keep the same cup volume. And for one band size smaller, choose one cup size larger. 


Finding your Bradelis Bra Size
Finding your bra size requires at least 2 measurements - underbust and top bust measurements. Since our products are functional, the size would fit slightly different and your Bradelis size is usually 1-2 cup sizes larger than your usual size.
For size recommendation, we recommend you to consult our online customer service and provide the below 4 exact measurements.
Underbust when you ①breathe in and ②relaxed
Top bust while you are ③standing straight and ④90 degrees
Or click here to view our size chart: https://bradelisnewyork.com/pages/size-chart
How To Wear Bradelis Shaping Bra
To achieve best shaping results, following the correct way of wearing your Bradelis bra plays an important role.
In order to scoop the excess underarm and back tissues into the cups, we recommend first bending 90 degrees. This can allow all excess tissues to flow forward. And then match and stable the underwire to your underbust line (the bottom of your breasts). Fasten your bra with the back hooks while stabling the bra. 
When the bra is fixed in place, continue to scoop the tissues in the underarm and back areas by following our instructions below.
For a complete guide, click here to watch our How To Wear videos: https://bradelisnewyork.com/pages/wear-and-care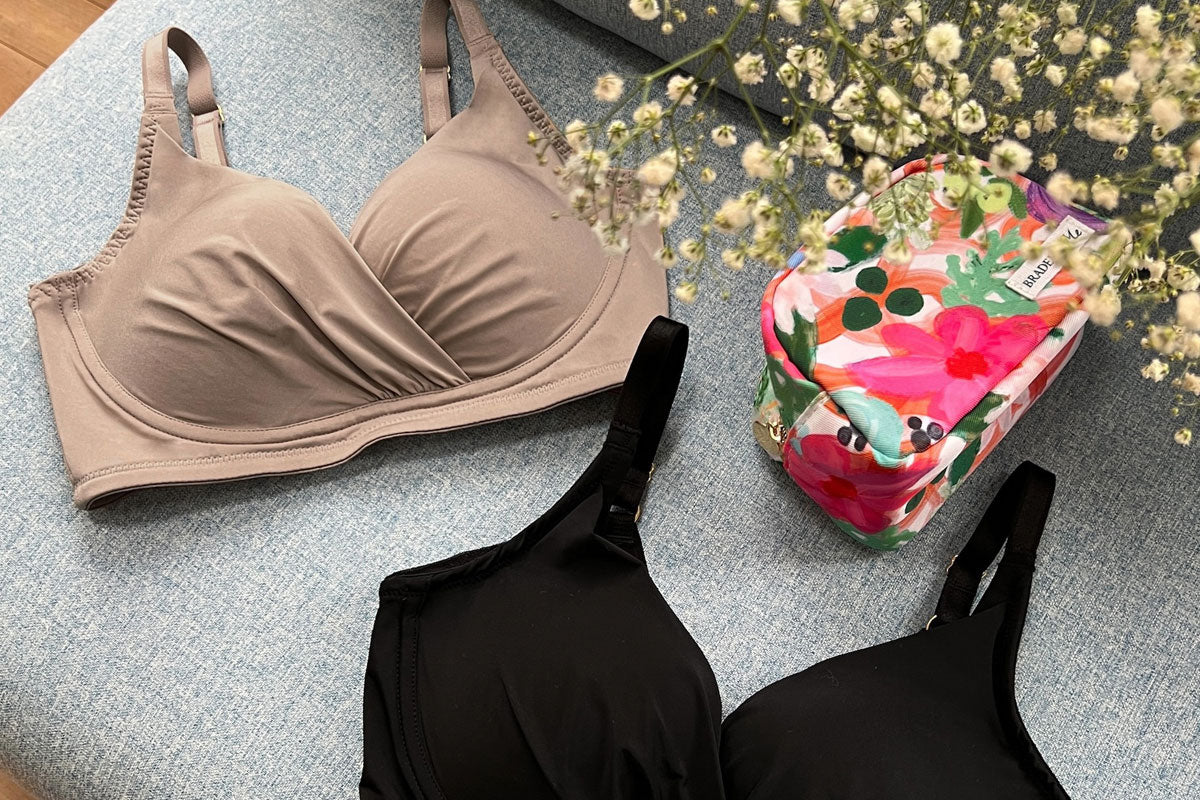 What should we look for in a Good Summer Bra? It's hot and sweaty over the summer season and no one wants to reveal a sweat-soaked bra over your t-shirt or have a bra sticking to and poking your sk...
Read more